Move clients to a modern retirement plan that earns you more!
Common Wealth's modern retirement platform is powering faster growth for advisors with over 2x greater revenue potential per client. And we're now making it even easier to move clients to our platform with an expanded fund lineup from from RBC Global Asset Management and a new feature called Build My Own Portfolio.
These new features respond to feedback from advisors and clients who have asked for greater investment choice to better map funds when moving a plan. Build My Own Portfolio also enables members to personalize their investment portfolio in line with their financial goals.
What are the investment choices in a Common Wealth plan?
Expanding on our default target date fund (TDF) approach, which offers ten BlackRock® LifePath funds, Build My Own Portfolio gives members a user-friendly way to allocate assets across seven funds from RBC Global Asset Management (RBC GAM). These funds offer a low-cost, diversified, actively managed strategy.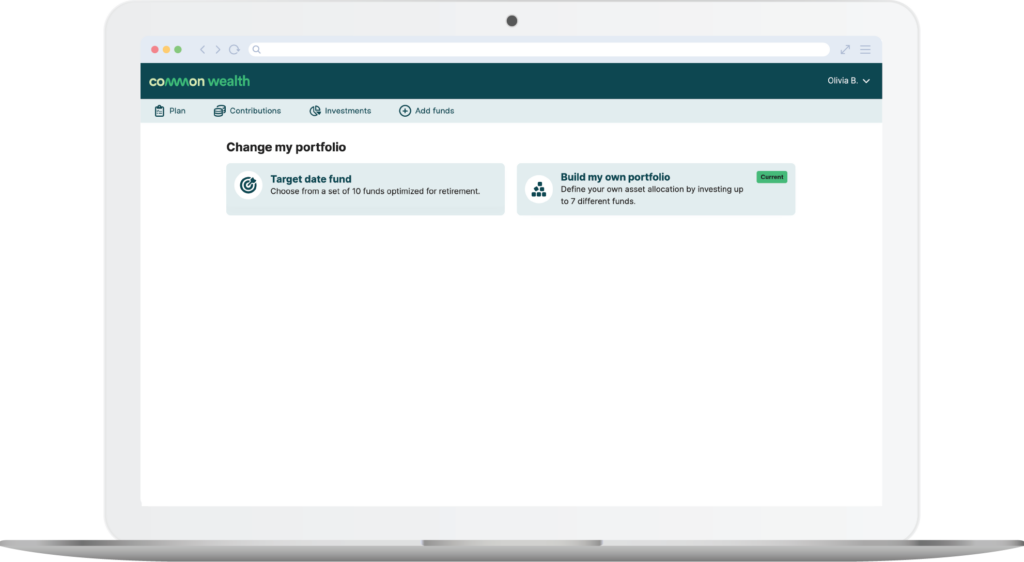 Target date fund
Most people don't have the desire or expertise to manage their own investments and want a proven, professionally managed strategy to grow their saving for retirement. So, we've taken the guesswork out of investing by suggesting an age-appropriate BlackRock® target date fund (TDF) for members.
TDFs are a smart choice for retirement. They are designed to take more investment risk when you're young and automatically get more conservative as you near retirement. It's ideal for most members, who want to set-it-and-forget-it and let the plan work for them.
There are 10 target date funds included in the Common Wealth plan, and members can go with the suggested fund or select their own.
Build My Own Portfolio
Build My Own Portfolio gives members an easy way to personalize their portfolio and define their own investment risk level. This is helpful for members who are saving for a shorter-term goal like a home purchase and want less risk, or for those who already have retirement income set aside and want to take a little more risk.
Build My Own Portfolio is available to members who are part of a workplace plan that has enabled this feature.
How does it work?
To build a portfolio, members simply add the percent they wish to allocate to each fund. Investments can be made across a variety of asset classes. As you allocate your investment, it will indicate your risk level.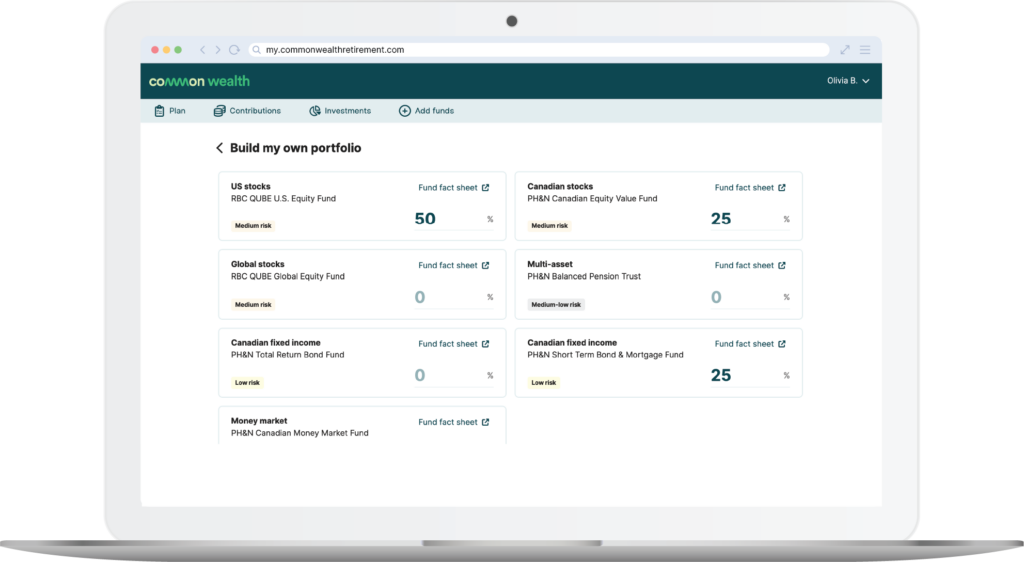 What happens if I am moving a plan?
Our team will work with advisors to transfer any existing retirement plan into Common Wealth, regardless of size. We handle all the mapping, plan setup, member education and enrollment communications. Funds from a current plan can be mapped to our default TDF strategy, a default investment mix or a custom design to maintain the plan members risk profile.
What funds are included?
All funds in Build My Own Portfolio are managed by RBC Global Asset Management, Canada's largest asset manager. Every quarter, funds are automatically rebalanced to ensure the asset mix matches the target allocation.
The initial set of RBC GAM funds include Canadian equities, US equities, global equities, Canadian fixed income (both universe and short-term), and Canadian money market, as well as a balanced fund.
Talk to us about moving your clients to Common Wealth
—
About RBC Global Asset Management
RBC Global Asset Management, a division of RBC, is a global asset manager with over $564 billion[1] in assets under management. It ranks as the largest asset manager in Canada[2] and serves a wide range of institutional clients, including pension funds, endowments, insurers, and high-net-worth individuals.
1 As of April 2023
2 See Benefits Canada, 2023 Top 40 Money Managers Report. RBC GAM's #1 ranking based on total assets as of Dec 31, 2022.
---